Company Overview
Pole-Ads has been pioneering strategic outdoor advertising solutions since 1990. Today, we have emerged as one of the biggest media owners of Ghaziabad city. We are a 360 degree outdoor media solution media provider with a strong presence in Delhi-NCR, and reputation for consistently offering superlative quality & unmatched prices since 25 years.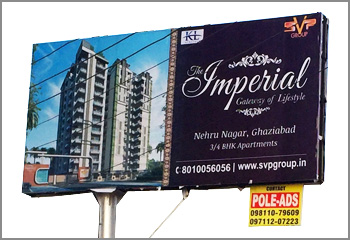 We bring to the media offerings, our ownership of high quality billboards spread across more than 150 premium locations across Ghaziabad city & other nearby areas.
We provide ourselves for commitment to quality, speed of execution & for consistently delivering tailor-made offerings across budgets to clients.
Specializing in the development and efficient delivery of "out–of-home" media solutions, we offer marketing through four distinct means, namely:
Overhead Gantry
Uni-poles
Bus Shelters
Pole-Kiosks
We are committed to provide innovative outdoor media alternatives that serve the needs of advertisers and simultaneously offer value to consumers and public.
Vision
To become the India's No.1 OOH Agency.
To be known as the Titan of Outdoor Advertising Industry.
Mission
To provide maximum mileage within the given budget.
To offer the best quality, service, strategy, sites and solutions.
To deliver anything and everything under OOH with a sense of competitive urgency.
Medias at strategic
locations
100%
Govt. Approved
Sites
Digital
Media
planning
Operations
&
Monitoring
24*7 Assisstance & After-Sales Service